In The Community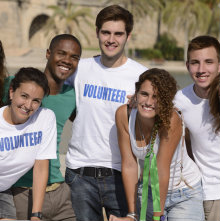 State Bank Financial is committed to building strong communities. We provide financing for local governments, schools, heath care facilities, and industrial development agencies. We lend money to families and businesses pursuing their dreams. We take pride in a legacy rich with charitable giving. We stay close to our customers and our communities, knowing that when they are strong and successful, we will be too. State Bank Financial also supports local D.A.R.E, G.R.E.A.T, and LPEF programs through the State Bank Financial Chili Cook-off.
State Bank Financial has always been mindful of its duty as a good corporate citizen. Our associates proudly support their community by giving of their time, talents and their money.
Our investment in the community runs much deeper than the benefits conveyed by charity and volunteerism. After all, we live in the same neighborhoods as our customers. Our children attend the schools that depend on us for banking expertise. We've learned to take these things personally. And we've learned that when our community is strong it makes our business stronger.
Community Support
State Bank Financial is proud to support local organizations whose mission it is to better the lives of the people of our communities. Their commitment to providing vital services and support to the people and businesses of our communities is essential to the success of the individuals and businesses that live and work in our communities.
Our support of United Way allows us to reach many local organizations and programs that give our communities and the people and businesses who call them home the ability to thrive.
Our Giving Mission
At State Bank Financial, community is at the center of all that we do. We are committed to making an impact in our communities by directing our giving to areas that we believe are important to their future success.
We directly support affordable housing opportunities, education, youth programs, the arts, community development and support, and agricultural development. Organizations that provide support to low to moderate income individuals and families are our priority.
We target well-managed, local, non-profit organizations that demonstrate strong leadership and align closely with our company values.
Our giving may be in the form of time, talent, or financial support.